| | | |
| --- | --- | --- |
| | Desert Springs 2010 | |
The Beautiful California Desert

---
Another week at our timeshare at Marriott's Desert Springs I. It rained and it was cold, but it was California and we love the Palm Desert area!
One of the most beautiful views on the Santa Rosa, San Jacinto, and San Gorgonio mountains with snow that we've ever seen!
Marriott's Desert Springs Villas I.
Nancy, Russ, Pat and Joe Alt at the J.W. Marriott Hotel lobby bar – escaping the unusual cool weather and rain.
Pat and Joe at the J.W.
Nancy and Joe at the bonfire – we needed it!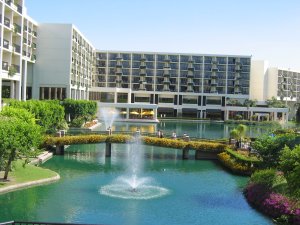 The lovely Desert Springs Marriott!
That bonfire certainly warmed the desert night.
Lots of snow! The San Jacinto mountains above the J.W. Marriott Hotel. We've never seen this much snow on the mountains – down to the 4000 foot mark. It was pretty, but made the desert chilly too.
Nancy and Russ on the balcony of our Desert Springs Villa.
This new policy from the hotel is a sad event and shows a lack of cooperation within the company! Hope it changes.
We went to the Oasis bar anyway and loved the view of the mountains.
Russ and Nancy at the hotel. It was chilly.
Mom and Dad Black Swan and their new egg.
J.W. Lobby – boats all batten down in the unusual weather.
At least it isn't raining. Nancy by the golf course.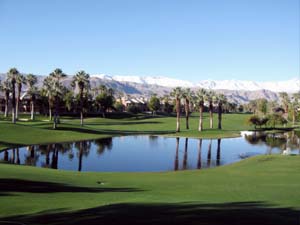 One last look at that beautiful mountain scenery.
---
Flags used on this web page are from 3dFlags.com
Click HERE to return to our "Travel" page.
Click HERE to return to our home page.