The Ritz-Carlton Club®
| | | |
| --- | --- | --- |
| | Lake Tahoe 2010 | |
Truckee, California
October 8-18, 2010
---

The Ritz-Carlton Lake Tahoe, California
---
Our first stay as reciprocal members at the
Ritz-Carlton Club Lake Tahoe
Living Room of our villa.
First rate Kitchen.
Dining Room and Wet Bar.
One of two Master Suites.
Lobby of the Ritz-Carlton Hotel.
The Lobby Bar.
Nancy at the gondola that runs down to Northstar Village.
Russ & Nancy on the gondola heading down the mountain.
Nancy in Northstar Village, lunch at Chocolate Bar.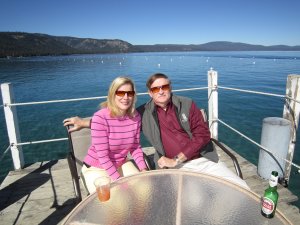 Nancy & Russ on Lake Tahoe at Chambers' Landing.
Nancy with Russ and wine buddy Peter Bosco.
Russ making the usual impression on Stephanie Bosco.
Beautiful view of Emerald Bay on Lake Tahoe.
Nancy & Russ at Emerald Bay.
emerald Bay and the lake -- gorgeous!
Davis' and Bosco's havin' a sleep-over. They live in nearby Truckee on Donner Lake. With two master suites, a den and an office, we had plenty of room!
The hotel by night -- wish we had this snow.
---
Flags used on this web page are from 3dFlags.com

---
Click HERE to return to our travel page.
Click HERE to return to our home page.