Clan Davidson
"Sapienter si Sincere"
(Wisely if sincerely)

Clan Montgomery
"Gardez Bien"
(Watch well)


(Members of the Clans)
We celebrate our Scottish heritage
We share and celebrate a common Scottish heritage. While Russ' family tree has branches extending to England and Wales as well as Scotland, Nancy's is firmly rooted in Scotland from near Glasgow in Ayrshire County, birthplace of her fraternal grandfather. We are members of the Clan Davidson Society USA, the Clan Montgomery Society International, and Clans of Scotland USA. We invite you to follow the links to learn more of the fascinating history of these two Celtic clans, as well as their interesting current activities. We're proud to be Scots.
---
Nancy & Russ at the 2004
Saint Andrews Society Tartan Ball
---
The Bagpipe Songs
| | | |
| --- | --- | --- |
| Scotland the Brave | Tulloch Castle | Bagpipe Medley |
| | | |
| | | |
---
| | | | |
| --- | --- | --- | --- |
| | | | |
| United Kingdom | England | Scotland | Wales |
---
The castles of both our clans are standing and have been converted to hotels. We hope to visit Scotland and stay at each. Click the link to learn more about both.
---
---
Red Whortleberry
Clan Plant of Clan Davidson
---
Nancy's Famous Scottish Relatives
Note the family resemblance – with Elizabeth, not Monty!
Field Marshall Bernard Montgomery
1st Viscount
Montgomery of Alamein

Elizabeth Montgomery
Actress
Russ is still looking for his famous relatives. However, Clan Davidson can claim many, including the three Davidson brothers of Harley-Davidson Motorcycle fame. (Russ doesn't ride one though.)
---
The Clan Montgomery Prayer
O heavenly Father,
Who has established the human race in families;
Send your blessings of familial joy and grace upon our clan;
Grant us that as you have bestowed upon us a place in history,
We may bestow upon our children a true understanding of that place;
May we ascend unto you from earthly labors of honor and honesty,
Ever worthy of our name.

Amen and Gardez Bien!
---
Our Clan Tartans
| | |
| --- | --- |
| | |
| Davidson | Montgomery |
---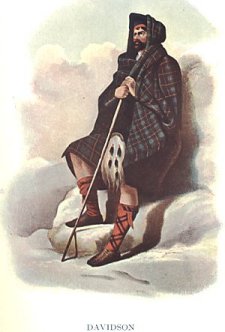 Royal Standard of Scotland
---
Flags used on this web page are from 3dFlags.com
Click HERE to return to our home page.