Baltimore Maryland
Unlike our other pages, this is not travel, per se. We did travel (to Baltimore), but Russ wasn't crazy about the accommodations -- compared to our other trips. Also, there was no beach . . . bummer!
| | |
| --- | --- |
| RIGHT: September 4, 2003 | LEFT: May 15, 2003 |
The saga of my hip resurfacing surgeries
(May 15 and September 4, 2003)
Rubin Institute for Advanced Orthopedics.
---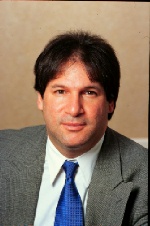 Russ' surgeon,
Dr. Michael A. Mont
Director, Joint Preservation and Reconstruction
---
---
Surface Replacement of the Hip
(Courtesy of the Joint Replacement Institute (JRI), Los Angeles)
In surface replacement, the femoral neck is preserved rather than amputated as is done in conventional stem-type total hip replacement. The femoral head is reshaped and resurfaced with a prosthetic shell. As a result, the femoral bone is loaded more like a normal hip and the bone is preserved. Since the resurfaced head is very similar in size to the normal hip (about 40-50 mm), it is more stable and dislocation risk is minimal. An example of a surface replacement is shown in Figures 6A and 6B.
| | |
| --- | --- |
| | |
| Figure 6A | Figure 6B |
Several different hip resurfacing systems were introduced in five countries in the early 1970s. They were implanted in young patients who were expected to require more than one replacement in their lifetime because they were thought to be more conservative devices than the conventional replacements. Some surface replacements with polyethylene have had long-term durability of up to 18 years thus far. However, because of the large diameter ball size of the surface replacement, there was more polyethylene bearing wear (the debris accumulation which undermines the fixation) which results in loosening of the prosthesis. Most surgeons abandoned surface replacements with polyethylene in the 1980s and early 1990s. Despite the fact that the durability was often less than desired, the femoral bone preserved by these systems was especially valuable for these young patients when revision surgery was required making that second surgery comparable to primary replacement.
The conservative and more physiologically compatible nature of the surface replacement has always been appealing to both surgeons and patients. There is renewed interest which has been fostered by the reintroduction of all-metal bearings which could dramatically increase the durability. The first of these metal/metal surface replacements was introduced in Germany and subsequently in England and at the JRI in the early 1990s. The instruments and design have been improved using modern techniques to further reduce wear and to facilitate the procedure. The major advantage of the surface replacement is in the preservation of the femoral head and neck. Further, unlike the acetabular reconstruction with the earlier designs which contained polyethylene bearings, very little bone is removed and the procedure is now conservative on the acetabular pelvic side of the joint as well. In short, no "bridges are burned" with the surface replacement procedure.
Surface replacement may also permit higher levels of post- surgery activity with fewer downside risks than does a stem-type device. The increased stability is particularly conducive for sports and work activities where a more normal range of motion of the hip is required.
The lessons that we have learned regarding design and technique issues during the past 25 years combined with the modern precision manufacturing of metal/metal bearing surfaces have led to a very much improved device. Although it is impossible to predict how much increased durability will be achieved, the volumetric wear reduction is substantial, and it is unlikely that these devices will "wear out". We also believe that the metallic wear debris, based on our histological observations to date, appears to be well tolerated in the tissues. Potential long term undesirable consequences of these devices are unknown. However, they have been successfully implanted for over thirty years so we believe the risk is minimal.
---

(Percocet is wonderful!)
LEFT HIP -- Results: The surgery went well on my left hip. Unfortunately, I had a complication of the peroneal nerve resulting in "foot drop" on my left foot. This has made my recovery more difficult. Visit to the neurologist and EMG testing indicated that the damage was not to the nerve itself, but rather the coating of the nerve. This should bode for an earlier and complete recovery.
I elected to forego the second surgery scheduled for May 22 because of the complication. Now, I will have to return at a later date -- after resolution of the nerve complication. I was discharged from Sinai Hospital on Sunday, May 18, 2003 and am recuperating at home. Physical therapy is a big part of that recuperation.
At my six-week checkup on June 24th, all was as well as it could have been. The x-ray showed perfect alignment and healing was excellent. As a result, I got some very good news: no more "panty hose," driving is ok, off the walker to a cane with 50% weight-bearing on the left leg. I am to use the cane for another five weeks and then can go without. I was also cleared for our trip to St. Thomas in July. Back to work was August 7th.
RIGHT HIP -- My recovery went well enough that I scheduled the right hip for September 4, 2003. My 14 week checkup indicated significant deterioration in the right femoral head, and I decided to get the surgery as soon as possible. Being an old hand at this, the second time around went smoother, but the pain was worse and the rehab will be more difficult. It was definitely a more difficult surgery, but I was able to get the resurfacing procedure that I wanted. Back on the walker and crutches feels a bit strange after just getting off them a few weeks ago.
At the three-week point (for the right hip) things were going well, albeit frustrating. I have to overcome the urge to do too much too soon. The pain is much better and the swelling is coming down. My physical therapy is also coming along nicely, and I am doing my exercises as instructed. My next appointment with Dr. Mont is at six weeks on October 14th. That's the big one where I will hopefully lose many restrictions. I plan to return to work on October 16th if that appointment goes as expected.
In spite of the walker and all the other inconveniences, we traveled to our timeshare at Marriott's Desert Springs in Palm Desert, California on October 4-11. It was nice to enjoy the warm weather and the change in venue.
My six-week check-up on October 14th went very well as expected. I transitioned to a cane (again, for five weeks) and got rid of the "panty hose"! Cleared to return to work part-time on Thursday October 16th. I will continue outpatient physical therapy three times a week for six weeks. Full-time return to work will probably be December 1st. It's been an interesting year! Here's my real xray with the bilateral metal-on-metal resurfacings: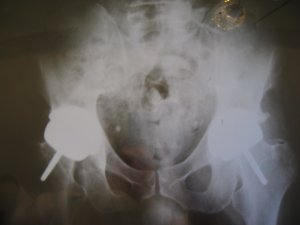 Some of my fun toys!
---
Click HERE to return to our "Travel" page.
Click HERE to return to our home page.