The Ritz-Carlton Club®
| | | |
| --- | --- | --- |
| | Saint Thomas 2014 | |
The Beautiful U.S. Virgin Islands
February 8-22, 2014
---

The Islands of St. Thomas and St. John, USVI
---
Our semi-annual stay at our "second home" at
The Ritz-Carlton Club, St. Thomas, USVI
That fabulous view from our balcony, Residence 1601.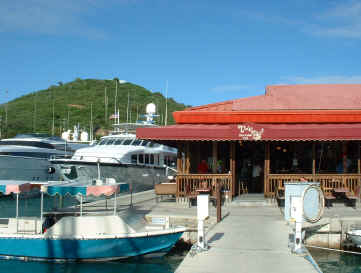 First stop from the airport is always Tickles Dockside Pub in Crown Bay.
Ritz-Carlton Club, St Thomas.
One of our next stops -- Secret Harbour.
. . . their beautiful beach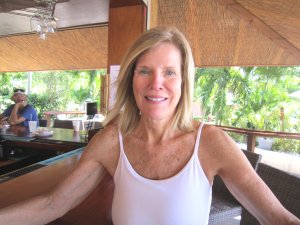 . . . and the Sunset Grill's Cruzan Beach Club.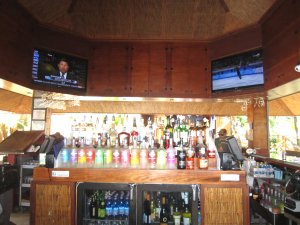 Never knew there were that many flavors of Cruzan Rum.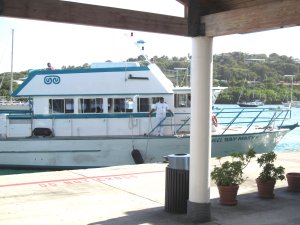 Waiting to board the ferry to Caneel Bay for dinner at ZoZo's.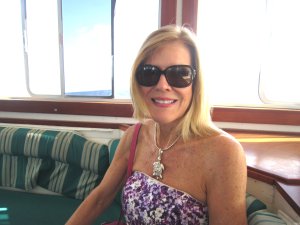 On board Caneel's (free) ferry to St. John.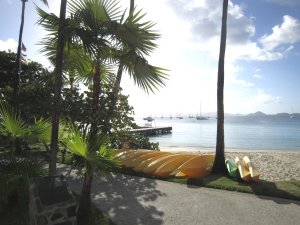 The beach at Caneel Bay Resort.
Nancy and Russ at the beach bar.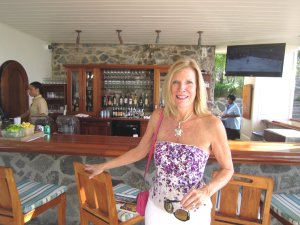 Nancy at the Caneel Bay beach bar.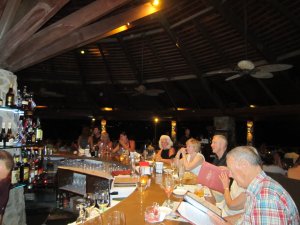 The much larger -- and more crowed bar at the new ZoZo's at the Sugar Mill in Caneel Bay.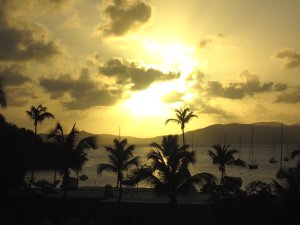 Not quite as pretty a sunset as at the old location at Gallows Point, but still nice.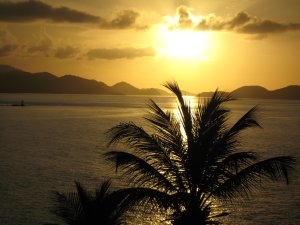 Here's one from the "old" ZoZo's in Gallows Point, Cruz Bay.
Lunch at Grande Cru in Yacht Haven Grande back on St. Thomas.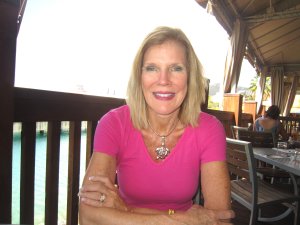 Nancy at Grande Cru.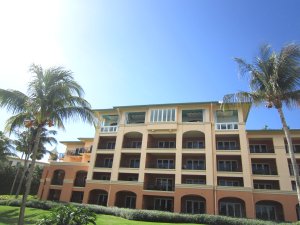 Site of the Ritz-Carlton Club's new restaurant, the Grand Palazzo Club (top floor -- bar is in the middle).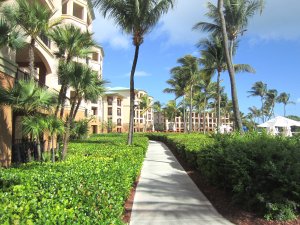 Landscaping at the Ritz-Carlton Club as beautiful as ever.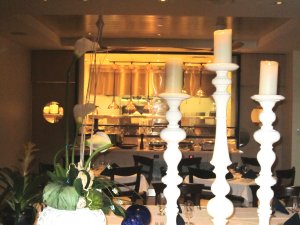 Grand Palazzo Club looking toward the kitchen. Here's a YouTube video of the grand opening: http://www.youtube.com/watch?v=2Rf-fbCD8fg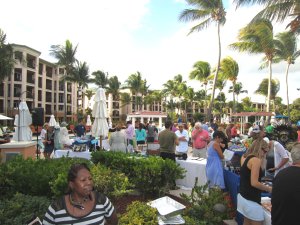 Members' reception -- all but one unit occupied this time of year.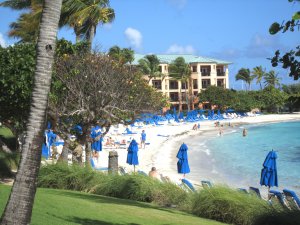 The beautiful Ritz-Carlton Club beach.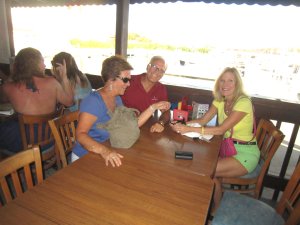 Nancy with newly arrived Pat and Joe Alt at Tickles Dockside Pub in Crown Bay.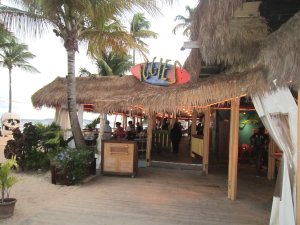 Iggies Beach Bar at Bolongo Bay Beach Resort.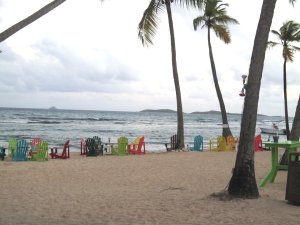 The beach at Iggies.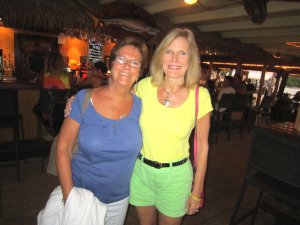 Nancy and Pat Alt at Iggies.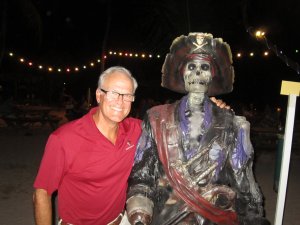 Joe Alt with the pirate at Iggies.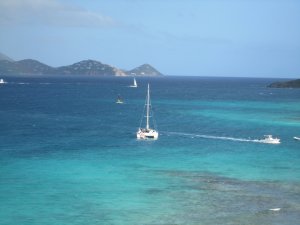 A pretty view of the Lady Lynsey heading out of Great Harbour. We'll sail on her Sunday (hopefully the rain will stop m\by then).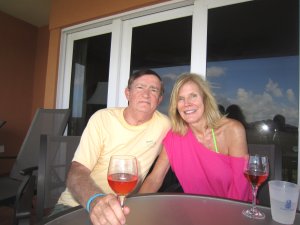 Russ and Nancy on our deck enjoying a glass of rose.
Beautiful moon-rise over Great Bay and St. John.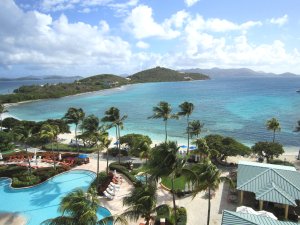 A look at our beautiful view -- before the rain started.
Dinner at Sunset Grill in Secret Harbour.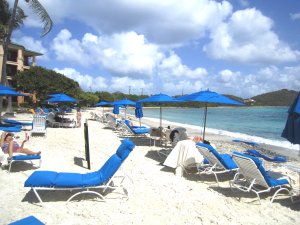 Another great day at the beach.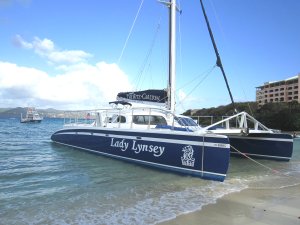 Off for a sunset sail aboard the Lady Lynsey at the Ritz-Carlton Hotel.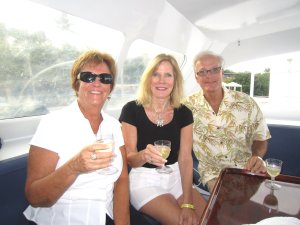 Nancy with Pat and Joe Alt on the Lady Lynsey.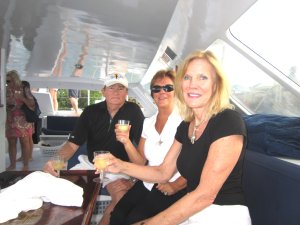 Russ with Pat and Nancy.
Nancy topside heading for the sunset.
Nancy and Russ aboard the Lady Lynsey for a sunset sail from the Ritz-Carlton hotel.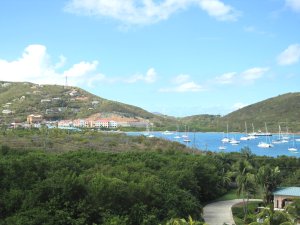 Great view of Red Hook Bay (in St. Thomas) from our rear balcony.
Back to Caneel Bay Resort with Joe and Pat.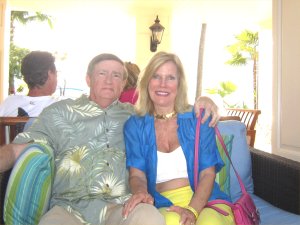 Russ and Nancy at Caneel Bay Beach Bar (again).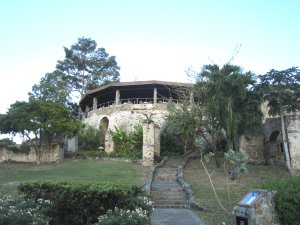 Off to ZoZo's at the Sugar Mill for dinner.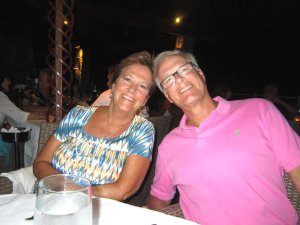 Pat and Joe at ZoZo's.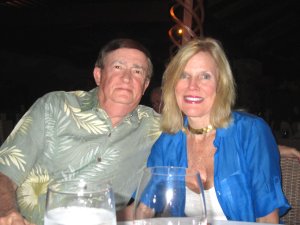 Russ and Nancy -- another great meal!
One last lunch at the Cruzan Beach Club, Sunset Grill at Secret Harbor.
---
Click HERE to return to our travel page.
Click HERE to return to our home page.